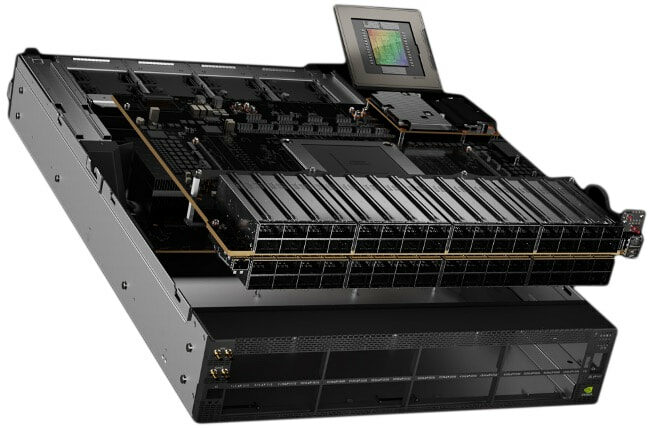 51.2 Tbps Switch ASICs to Drive the Migration to 800 Gbps and 1.6 Tbps Starting in 2H22
 
NVIDIA continues to drive products and solutions at a rapid pace.  They continued to push the boundaries and accelerate the pace of innovation in the data center through the recent GTC announcements.  With the launch of Spectrum-4, we got to see NVIDIA's first Ethernet Switch announcement and what they were busy developing since acquiring Mellanox.  Keeping with the accelerating theme, NVIDIA clearly accelerated the pace of Innovation and proudly showcased Spectrum-4 at GTC.
Market Background
Over the next five years, 51.2 Tbps ASICs will be responsible for over $20B in Data Center Switching revenue.  About 2X the size of the 100 Gbps upgrade cycle and 4X the size of the 400 Gbps upgrade cycle.  This class of ASIC is critical to allowing data centers to scale as more workloads become hardware accelerated.  Hardware acceleration can come via the server, NiC, or DPU and causes networking bandwidth to double every year compared to the more traditional growth of 30-40%. 
NVIDIA's 51.2 Tbps ASIC
NVIDIA's Spectrum-4 announcement included many new and first-to-market capabilities.  It was the first 51.2 Tbps ASIC announced in the market and the first switch that can do 64 ports of 800 Gbps from a single ASIC.  It also supports 1.6 Tbps speeds, another first and the preferred speed for the two most prominent Hyperscalers. 
In addition, NVIDIA announced Spectrum-4 as a fully integrated Switch that will sample later in 2022 and begin shipping in 2023.  The chip will be produced at TSMC in the 4N process.  NVIDIA did over $1B in Ethernet Switch and NIC revenue in 2021.
It's All About The SERDES
NVIDIA will be using its own, homegrown, 112 Gbps SERDES.  SERDES has always been a challenge in switch development, with many ASIC companies having to integrate 3rd party SERDES.  However, we view vertically integrated as a source of differentiation and will become      more common      in the future       as ASICs increase in speed.  SERDES will also be a key to adding additional IP blocks and photonics to the networking ASIC, as those markets evolve.
The Speeds And Feeds Race
NVIDIA's Spectrum-4 introduced several features that help it distinguish and route traffic.       These traffic classes are often described as elephant and mouse flows.  The key at a market level is that AI and accelerated computing put a considerable burden on the network. So AI networking switches need to keep pace with this new class of 'elephant flow' traffic and not slow or drop packets.  At the same time, accelerated traffic is growing as a percent of traffic.  Multiple 100G ports are already standard at the RFP level for AI workloads.  12.8 Tbps and 25.6 Tbps ASICs can not keep pace with a fully loaded AI cluster.
Beyond AI
While the announcement focused on NVIDIA examples, such as connecting Spectrum-4 to NVIDIA Certified      OVX OEM servers, we view the market as benefiting from NVIDIA taking networking seriously.  Cloud customers have always requested multi-vendor at the ASIC and system level, and the ability to collapse networking tiers with 51.2 Tbps will be a critical driver to adoption.  We, therefore, expect Spectrum-4 to apply to the whole data center, not just focused on the high-end or NVIDIA-connected solutions.  We are excited to see this switch show up in 2H22 in the customer's hands.