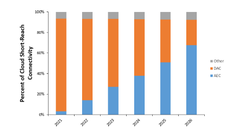 2022/'23 Server Designs to Adopt Higher Speeds and use AEC to Address Server Connectivity
The AEC market has entered 2022 with solid momentum.  We have many ASIC and cable suppliers entering the market to address a need to replace DAC in higher-speed network designs. 
As we enter OFC this week, the market continues to increase in offerings.  In addition, there is a strong backlog forming as Hyperscalers and most cloud providers look towards the technology to solve next-generation server-to-ToR connections.
Server designs continue to embrace AI/ML and HPC principles, which cause the NIC speed to increase from 25G to 100G and beyond rapidly.  In addition, DPUs and custom accelerators increase bandwidth at an even faster clip.  As a result, multiple 100G ports per server in the Cloud will be standard, and the current path of using DAC is not a sustainable path from a power or cost standpoint.  AECs, which have already enabled the implementation of Distributed Disaggregated Chassis (DDC) deployments, are ready to enable a new deployment of NIC to ToR implementations. 
We expect most server-to-ToR connections in hypersscalers to be AEC within our forecast period.  It is clear that multiple Cloud providers are standardized on AEC and moving away from DAC.  There are several different varieties of AEC, and in 2022 we expect Switch AEC and Shift AEC to be the most popular choices.  As we look toward the end of the forecast, Secure AEC and Multi-Rack AEC will become an essential part of the ecosystem.
At OFC, it will be exciting to see AEC in action and begin the conversations about AEC adoption into Enterprise and SP data center architectures.
Fig.1 NIC-to-TOR Migration to Active Solutions/ Source 650 Group
 
By Alan Weckel, Founder and Technology Analyst at 650 Group.