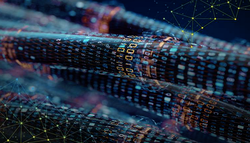 Juniper led the Market in 1H20 and 2019
DCI has a different meaning for different customers and vendors.  Ethernet DCI is a critical technology and enabler for Cloud customers to build data centers and transport data between them with lower-cost high-density router/switch platforms with pluggable modules.  While DCI has been around for a long time (The Optical Transport Market), Ethernet DCI is different. It uses Ethernet-based Routers and Switches for connectivity between data centers.  As we look forward in time, Ethernet DCI will also embrace ZR/ZR+ optics to increase distances in the 400 Gbps and 800 Gbps upgrade cycles. Historically DCI meant routing traffic through Telco SPs.
Today, the Cloud uses its own network and fiber for the majority of traffic until the last-mile to the consumer or enterprise.  As an enabler technology, Ethernet DCI is not only the movement of Ethernet platforms into adjacent markets, like Metro Optical Transport, but also new greenfield installations. The ability to move into adjacent markets and new opportunities creates a multi-billion dollar opportunity.  It is one of the main drivers for Ethernet-based Switch and Router revenue growth in the Cloud with the 400 and 800 Gbps upgrade cycle. Without this class of system and new optics, the Cloud could not scale, and edge-computing, IoT, and other more modern applications like AI and ML would not be possible.
When we look at 1H20 and 2019 results for Ethernet DCI, Juniper held the number one position in the market with Cisco and Arista rounding out the top three vendors in this segment.  Our reporting of Ethernet DCI looks at five different use cases, ranging from Cloud to Colocation to Telco SP.  In addition to leading the overall market, our report indicates Juniper also leads in the Cloud/Metro, Colocation/Long Haul, and Telco Cloud use cases  with the company's MX, PTX, and QFX 10K platforms.
In 650 Group's market projections, we expect both next-generation high-density routing platforms and Ethernet Switch platforms to have robust growth.  Short-term growth will be driven by strong trends in Content Delivery Networks (CDN) and increased capacity to support Work-From-Home (WFH).  As we get into 2021, ZR optics availability will drive additional capacity growth with entering the market in the later half of our forecast.  ZR+ allowing Ethernet-based platforms breaking the 1000 km distance.  ZR+, under the right conditions (data rate, modulation, and fiber), has the potential to fulfill most connections on each continent.  As Telco SPs look towards Cloud architectures and machine-to-machine traffic rapidly goes from inside the data center to spanning multiple facilities, Ethernet DCI will remain a robust market for edge-computing connectivity and the transport of data sets for processing for AI.