Data Center – $2.5B annualized run rate
Driven by DPUs, Inphi, and Innovium acquisitions, Marvell has grown robustly in data center, geared towards the Cloud. Marvell is well positioned to the higher growth portions in the data center. Our research indicates Cloud CAPEX will prioritize AI/ML and DCI in 2023.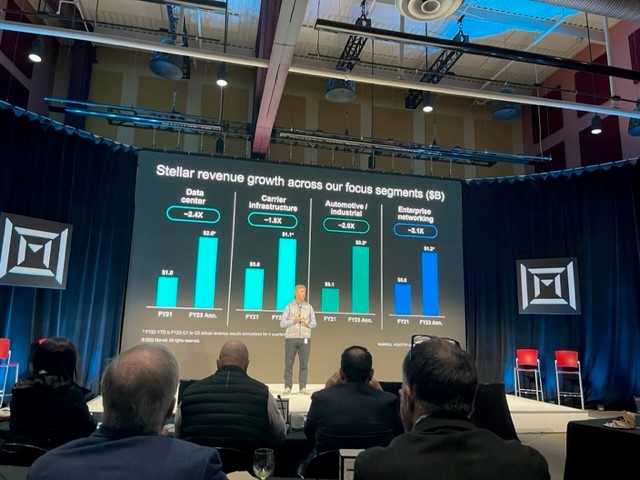 Carrier Infrastructure – $1.1B annualized run rate
Marvell has key wins on Tier 1 providers and is active in the ORAN movement. The company also highlighted the start of work on 6G. Marvell now claims to have wins at four of the top 5 cellular baseband infrastructure companies.  This compares to just one major customer in 2019. Therefore, Marvell has taken significant share from in-house ASIC designs. 
Automotive/Industrial – $0.3B annualized run rate
As cars move towards Ethernet, Marvell is positioning new products and automotive specific Ethernet to address the electrification and connected car trends. We view the opportunity here as $100+ per car.
Enterprise Networking – $1.3B annualized run rate
Led by the need to upgrade the multigig, Marvell is growing robustly and is in 17 of the top 20 OEMs, a huge increase over the past few years. Multigig has a significant price premium and as the market transitions to higher speeds allows Marvell to increase the companies content in future Ethernet switches.