AI/ML and New Product Announcements Drive Industry Forward
NVIDIA's GTC 2023 was a robust set of hardware and software announcements that pushed AI/ML further into society and helped transform many verticals. The pace of innovation since the last GTC was noticeable, with end-customers making huge improvements because of AI and many new hardware and platform announcements.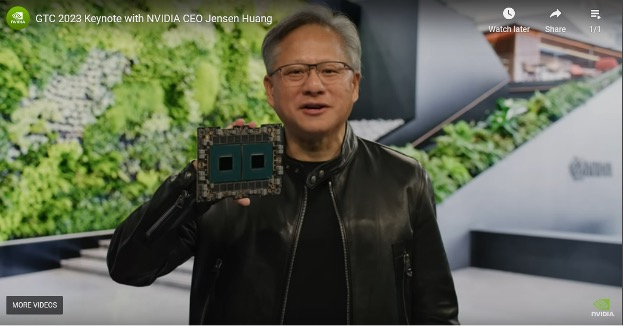 A clear theme is that we must accelerate everything to keep scaling data centers without running out of power and human resources to manage them. Almost Moore's law, but at the data center level.
While we aren't quite at the point of AI writing our blogs for us, it does note that GTC 2023 is a conference organized by NVIDIA, a leading technology company in graphics processing units (GPUs) and artificial intelligence (AI).
The conference aims to bring together experts, researchers, developers, and enthusiasts in AI, data science, and high-performance computing to share their knowledge, experiences, and innovative ideas. The event featured keynote speeches, technical sessions, hands-on training, and networking opportunities to foster collaboration and accelerate the development of cutting-edge technologies. GTC 2023 was an exciting event for anyone interested in the latest advancements in AI and computing.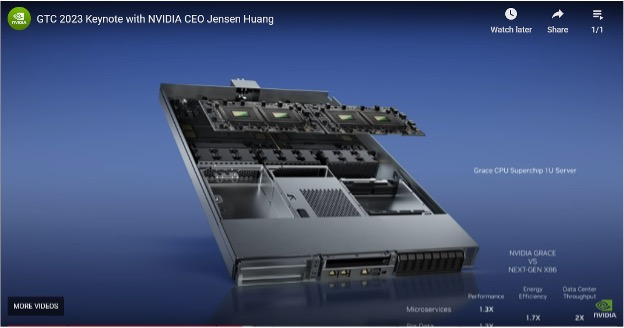 One of the exciting items announced at GTC was the expansion in use cases for the Grace ARM CPU, pictured as a card and system level in the photo. As a result of this development, we expect to see increased innovation velocity in the data center and a significant increase in networking bandwidth to support this growth.
We also saw the collaboration between Hyperscalers and NVIDIA as interesting, such as NVIDIA's Omniverse , an Industrial Metaverse featuring AI supercomputing that is powered by Microsoft Azure.
650 Group sees innovation in AI and the use of AI in enterprises as still in its infancy, and for markets like data center switching and servers, AI is an additional growth driver over the next few years.
We look forward to future updates from NVIDIA throughout the year and an in-person 2024 GTC.