Zscaler just beefed up its offering by announcing plans to acquire Canonic, a security company that enhances the acquirer's CASB and SSPM offerings. With the Canonic offering, Zscaler will be able to address an emerging security threat that companies experience – third-party applications and browser extensions that connect to corporate SaaS services. The Canonic service will run on top of the existing Zscaler traffic monitoring service, so customers won't need to put in place additional network connections. Today, Zscaler has a broad data protection portfolio that spans three existing services: (a) to guard against SaaS misconfiguration and compliance violations (using SSPM) (b) to prevent data oversharing (using CASB) and (c) to secure BYOD Access (using Browser Isolation). Now, with Canonic, it will have a way to prevent backdoor exfiltration (using "Supply Chain" security from Canonic). We have taken a page from Zscaler's pitch to explain the four types of data loss security services it'll offer once Canonic closes.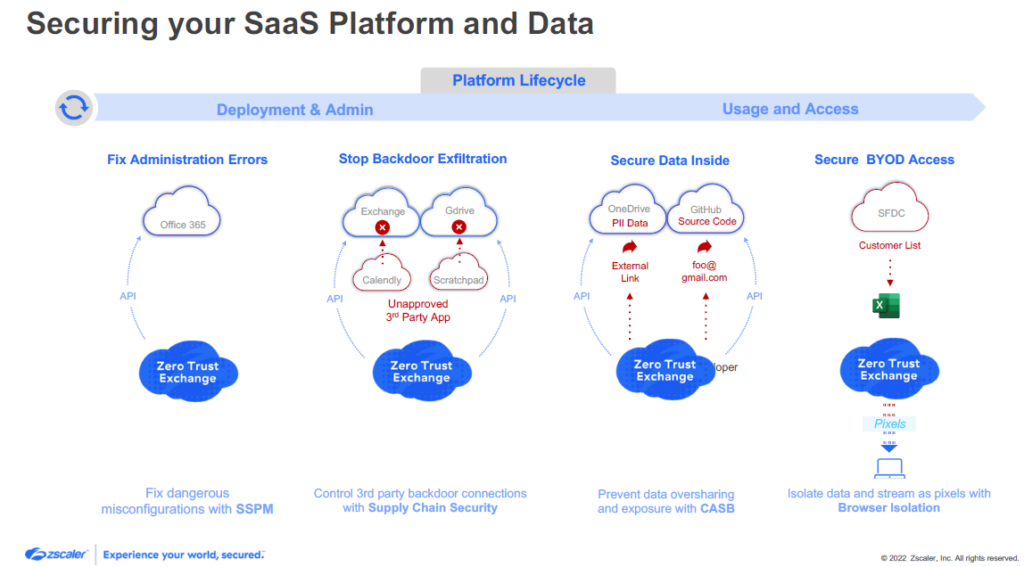 For every user that downloads an application on their iPhone that then requests API access to services like Exchange (Calendly is an example), or 1-800-flowers to Gmail, other users authorize malicious apps to access other corporate data resident on SaaS services. By closing backdoor connections, Canonic's service addresses the "backdoor exfiltration" threat that unapproved third-party applications pose. Canonic has implemented the system because its customers (IT staff at Canonic's customers) allow access to the leading SaaS applications like Exchange, Salesforce, Slack, and others. Then Canonic takes care of the rest. Once Canonic can observe these useful SaaS applications, it scans for third party applications and monitors to see if their behavior is odd. The Canonic team has a database of 50,000 third-party API apps and 138,000 browser extensions as part of its evolving list.
In our security research, we've projected that cloud-based security of all types will grow rapidly, while at the same time, hardware and premises-based security has likely peaked as of last year. Zscaler's expansion of its cloud security portfolio confirms our thinking – that the best way to secure fast-growing cloud-based computing services like Salesforce and Slack is to use cloud-based security.