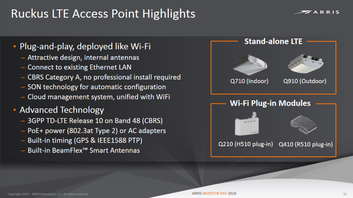 Arris held its annual investor day late last week on March 28, 2018.  It was interesting: the company said "Everything is going wireless," which is an interesting admission for a company that, until about a year ago, was essentially a pureplay on wired broadband.  To be sure, the company has diversified into wireless with its acquisition of Ruckus and has benefitted from the inclusion of Wi-Fi capabilities to its broadband CPE.  The company sees this wireless future – and is pivoting towards it.
Arris management highlighted that it expect its future to include the following growth avenues:
Cloud Wi-Fi
DELL OEM
CBRS 3.5 GHz LTE Small Cell
IoT (Residential and Industrial)
FTTx (10Gb EPON / NGPON-2)
Consumer Mesh Wi-Fi
Campus Ethernet Switching
Additionally, the company discussed its expectations for each division, which using its 2017 mix and various projections, calculates to a 4.7% CAGR from '17 to '21.
Enterprise Networking (Ruckus).  Overall, the company's Enterprise Networking division, also known as Ruckus Networking, includes its Enterprise WLAN business (formerly Ruckus Wireless), the Brocade ICX Ethernet Switch product line (referred to by the company as Campus Switching), and other revenue streams such as CBRS 3.5 Ghz LTE Small Cells, as well as IoT radio modules that plug into the Ruckus Access Points like Bluetooth, LoRa and Zigbee.  The company is targeting 20%+ growth for the Ruckus Networking group, which is far above the industry growth rates we expect for Enterprise plus Outdoor WLAN and Campus switching. This aggressive growth rate either implies share-taking, or growth in other products such as CBRS, Bluetooth, LoRa and Zigbee, or the the non-WLAN parts of what used to be Ruckus Wireless, such as Cloud-managed Wireless LAN services (that, for instance compete with Cisco's Meraki, Aerohive services and Mojo Networks).  The company cited an expected Enterprise WLAN revenue growth projection slightly above our projection for the period '17 to '21, even if cloud-managed WiFi services were included.
​Network and Cloud Segment.  The company said this market is growing 5% annually, and described the market generally as the Cable Modem Infrastructure, optical nodes and cable video networks market.  The company generally expects to take share, compared to this market viewpoint, projecting a 4-7% long-term annual growth expectation for this business segment.  It was interesting that the company said that the "mobile device explosion [is] driving offload demand," because it has been several years since "Wi-Fi offload" was a growth driver, but dissecting the comment a bit more, the company is pointing to cable operators as being "well positioned to handle [the] offload."  We think Arris' strong supplier position with the major Cable MSOs in the US, especially, may indicate that there should be a strong build up of WiFi and cable infrastructure coming in the future.  And, this corroborates with our own research and statements from MSOs such as Comcast.  In fact, the company showed a "future" network diagram that indicates it expects its MSO customers will be delivering 5G radio, Remote OLTs (PON) and Fixed Wireless Access instead the of cable modem (DOCSIS) equipment that was indicated in the "now" chart.  This implied shift from DOCSIS to PON/5G/FWA would be a dramatic shift in the company's product portfolio.  Very interesting, indeed.
Customer Premises Equipment (CPE) Segment.  The company claims a #1 Set Top Box (STB) market share, and #2 Broadband CPE market share, with a mix of 60% video CPE and 40% broadband revenues in 2017.  The company expects to grow broadband CPE to a mix of 50%+ by the year 2021, consistent with the market growth rates it cites – 4% CAGR for broadband and -.8% for video.  Generally, the company is projecting long term sales trend of -5% to +1%, indicating that it lacks the direct to market exposure that would get it to a growth expectation in this segment.  The company confirmed it is using NBASE-T (Multi-Gigabit Ethernet) interfaces on its home networking devices and it is planning to release 802.11ax capabilities on its portfolio, as well.  Arris CPE will also include Extenders / Adapters to, at least partially, address the growth now occurring in the Consumer Mesh market.