We attended the F5 analyst meeting, the first with new CEO, Francois Locoh-Donou.  It is clear that the new CEO understands the impact the growth in the cloud has on F5, and VP Sales John DiLullo even went so far as to say that beginning about 18 months ago, his customers are embarrassed to admit they actually own a physical on-premises infrastructure (picture).  Also relatively new to the F5 team is Ben Gibson, CMO, who joined about a year ago.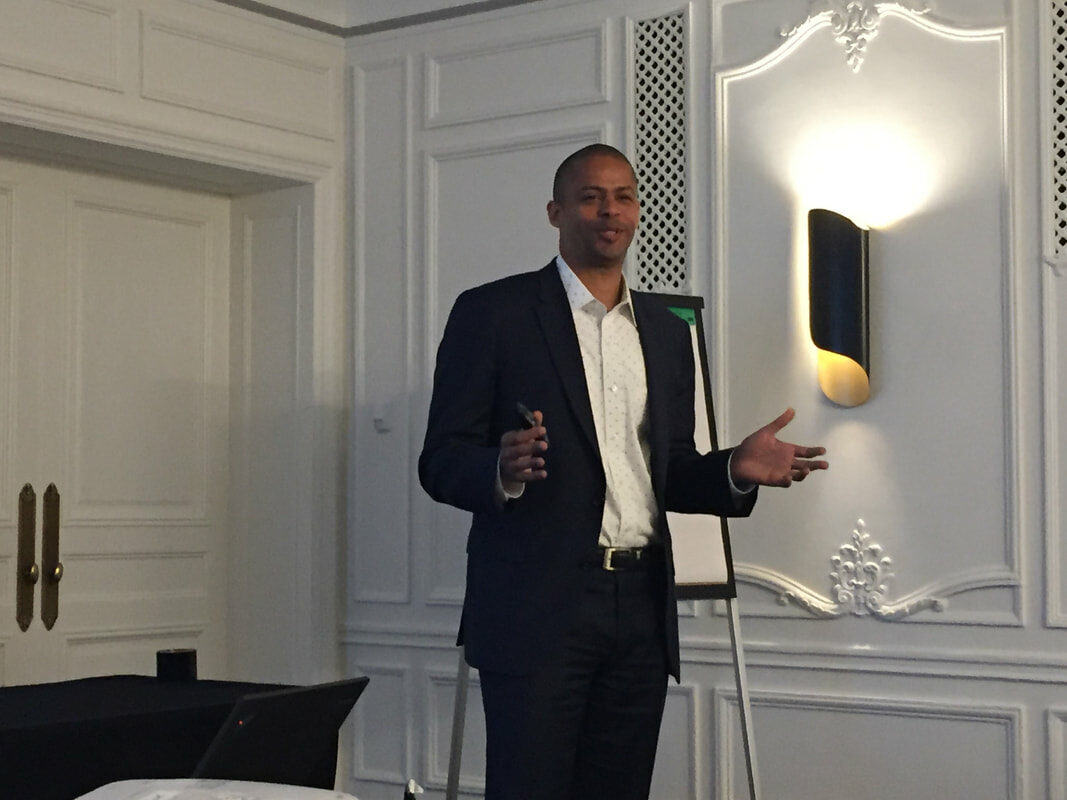 F5 CEO Francoise Locoh-Donou at the F5 2017 Analyst Meeting
We break this write-up into a few different parts: a) the new technical strategy, b) the shift to subscriptions, and c) new products.
New Technical Strategy
The company's message was similar to its recent earnings call, though with a lot of technical details, the focus being that the company is pursuing opportunities where its technology will be made:
Easy.  The company believes that making its products easier for developers to incorporate will broaden the appeal, and we agree.
Multi-Cloud.  The company recently surveyed its customers and has confirmed that most are operating a multi-cloud environment – the company plans to help such customers by managing workloads across multiple locations.
Application Security.  This is the growth vector for the company, which we explain in more detail later.
Shift to Subscriptions
The company recently began offering its software versions of its products using a software subscription business model.  This differs from its other contract methods it has used with customers in the past.  The first subscriptions were made available since the new CEO has joined.
F5's shift to subscriptions is not particularly unique in the marketplace.  Many traditionally network hardware-focused companies have begun the transition, as well.  Cisco is a good example, having very recently (June 2017) announced a software subscription model to pair up with its newly launched Campus Ethernet Switches, the Catalyst 9K series.  Though this wasn't discussed at the meeting, we expect that new accounting standards that come to the marketplace about a year from now may result in only a modest impact to revenues as a result of a shift to subscriptions.
Application Security Opportunity
The company's big bet is on application security.  We view this opportunity as quite significant, though providing application security is quite different from vast majority of the company's offerings and revenue.
F5 offered some interesting data for us to chew on, the result of the fact that the company's iHealth offering acquires data from its customers. 
Over the past three years, the main features being used on between 6,000 to 8,000 customers on Big IP devices are as follows (in order of most common):
SSL Offload
TCP Multiplexing
Compression
Web Acceleration
Caching
It is clear therefore that most Big IP use relates to front-ending customer-facing services, which supports our view that the company's big bet on software will represent a large change for the company.  However, the company also shared some other interesting market-sizing data that we found useful in assessing the company's opportunity.  Across its 6-8K of customers using Big IP in the past 3 years, there are:
4 million virtual servers
Somewhat under 1 million physical servers
We got thinking about what this means, in relation to the application security opportunity upon which the company is embarking.  There are orders of magnitude more physical servers, and for that matter virtual servers, than those working in conjunction with Big IP systems.  If the company can succeed in having its application security software working in conjunction with this larger opportunity, then the company may have some serious room to run.
New Products
The company is developing software products.  Examples are:
Application Controller.  It runs in the public cloud and connects to a Big IP in Co-lo or in a private cloud and extends what the Big IP can see into the public infrastructure.  The products is in General Availability now.
Virtual Edition.  The company views this software-only product capabilities as potentially running as fast as its hardware-based ADCs over time.  VE is benchmarked at 40 Gbps in its F2Q17 release and the company sees this getting to 100 Gbps (timeframe not disclosed).  Additionally, by 1H18, the company plans to offer VE to run in a container environment.
Container Connector (CC) and Application Services Proxy (ASP).  Both were released in the Spring 2017.  These are both 'in the hands of multiple customers,' according to the company.  These are intended to be used with Container environments such as Kubernetes, Mesos and/or Docker. 
Additionally, the company said it is working on "Incubation" technologies that are mostly cloud-focused and R&D budgets for such efforts are large (but this wasn't quantified for us).