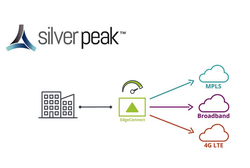 Alan Weckel:  This week, HPE Aruba announced its planned acquisition of Silver Peak for $925 million with an expected close date during HPE's fiscal 2020, so we expect the deal to close in calendar 4Q20. SD-WAN is becoming a battleground for vendors as an increasing portion of enterprises want single-pane and cloud-managed solutions for their branch equipment.
Our research indicates the average branch employee connects to over one dozen cloud services daily and the edge-to-cloud experience has never been more critical in the COVID and post-COVID world as businesses try to engage with customers across an increasing amount of physical and virtual locations.
Enterprises will accelerate the retirement of MPLS links for more advanced WAN architectures with Cloud-first principles in their physical branches.  Enterprise will also deploy a mix of hardware and software into employee's houses as Work-From-Home (WFH) changes every employee's residence into a new branch extension of the enterprise.
We have conducted significant research into the Branch in 2020 and how it will transform across verticals and product categories (SD-WAN, legacy routing, WLAN, switching, and security) based on long-term structural changes to the market as well as the sudden changes forced on customers by COVID-19.  We project SD-WAN as the fastest-growing component in the Branch over the next five years.
Silver Peak's advanced SD-WAN portfolio (both hardware and software), completes HPE Aruba's breadth of WAN offerings, strengthens Aruba ESP (Edge Service Platform) and complements Aruba's strong position in Ethernet Switching, and WLAN, especially Aruba's newer WiFi 6 APs and custom ASIC-based 6200/6300 Access switches.
We expect that AI/ML will increasingly become part of the Branch market in each year of our forecast driven by further product integration by vendors and the need to control and monitor an increasing amount of user and device (IoT) traffic.  As the AI engines learn, self directly networks will move towards self-driving as automation of tasks beyond simple device management become common across networks.  The ability to use AI at this scale in networking today is limited to the largest hyperscalers, but will quickly make its way to campus and branch networks.
We expect overall Branch spending to increase above its 2019 run rate during the forecast period (post-COVID) and single-pane management to nearly triple during that timeframe.  HPE Aruba's acquisition of Silver Peak will help them address the fastest-growing part of SD-WAN and Branch networking.  While there are dozens of SD-WAN, campus switching, WLAN, and security vendors vying for Branch spend, there are only 6 US-based vendors that have a holistic portfolio that customers want and need.
Posted by Alan Weckel, founding technology analyst.