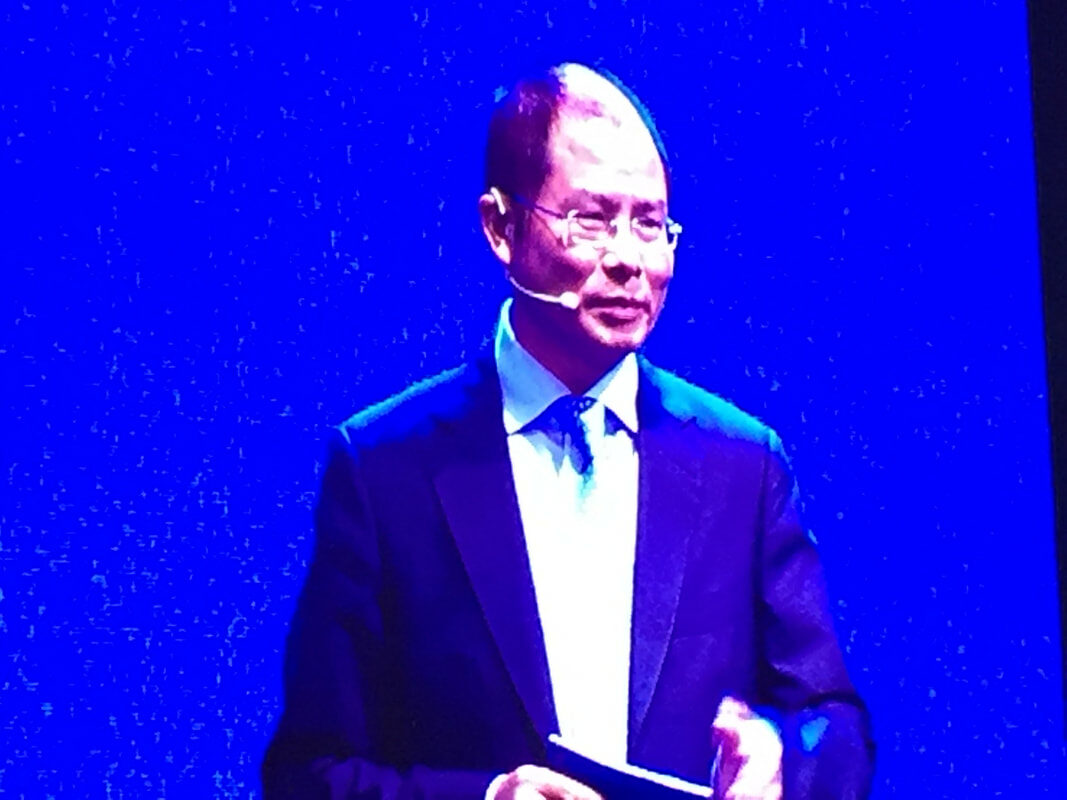 ​The main theme of the the Huawei HAS 2018 meeting keynotes was Artificial Intelligence and, secondarily, nearly ubiquitous networks connections across the world.  Huawei expects 86% of enterprises to have experimented with AI by 2025 (<5% in 2018).  It is leveraging AI across nearly all its products and will offer a full stack AI solution to all Huawei partners at its @Huawei Connect 2018 conference (Oct 10, 2018).
More specifcially, Huawei is using AI to elevate products & solutions to new levels: cloud, networks, devices, EI, SoftCOM AI, and Intelligent phones.  The company's strategy has changed over time and is now AI-focused:
2006-2011: Single strategy: All IP
2012-2017: SoftCOM: All Cloud
2017+:     All Intelligence: SoftCom AI (autonomous networks / services 2.0) – this reduces operating and maintence costs
The company expects that networks will be 10x more efficient in the operation of equipment as a result of AI.
By 2025, Huawei expects 440M AR/VR users, 40% of cars to be 'connected," 80% of users with access to mobile broadband, usage of 1 Gbps / user / day (versus .03 in 2018) and 20B connected devices worldwide.
Connected Devices Forecast (Huawei) by 2025: 40B sensors and 100B connections.  This thinking is based on data including that there are:
4B livestock in the world
300m streetlights
1.8B utility meters
numerous bike programs in major cities
numerous greenhouses
The company's product lines are very diverse; to wit, the company introduced a helmet for the blind, which will be available soon.
Huawei expects NB-IoT (LTE-based IoT capability) to reach almost full coverage in China in 2018.  Additionally, the company expects NB-IoT to reach 100 networks by the end of 2018 (versus 39 in 2017) and to be available on 1.2M base stations (from 0.5M in 2017) and to be connected to 150M connections (versus 10M in 2017).
The company boasted about several developments:
Chipsets for cloud data center systems.  The company highlighted its internally developed Atlas (intelligent cloud hardware).
The company expects its cloud services will become one of major 5 clouds.  Uses smart NICs for CPU optimization and is 'open.'
The cloud service from Huawei will be low cost because Huawei makes all the equipment necessary to build this cloud
Internet of Vehicles system was was built for Group PSA (French auto company known for the Peugot brand)
5-An example of the company's "Intent-Driven Network" was its AI-based premium home broadband for a better user experience on Chinese based PON systems in use today.  Real time data collections allows 40% reduction on door-to-door service and fault prediction of 85% of Wi-Fi faults and 30% of all network faults.
AI-enabled, software-defined cameras are now available that perform low-light feature extraction (e.g. facial detection/comparison) over 85% of the time.  And, using the Huawei AI chip, it can outperform CPUs by 25X and GPUs by over 6x.
VR/AR will create a $2.7 trillion ecosystem in the future.  The company reminds the audience that it demonstrated teh first CloudVR Proof of Concept at the March 2018 MWC conference.
Q&A after keynote:
Mr. Eric Xu, Rotating Deputy Chairman of Huawei dodged several important questions relating to trade tariffs, cloud business unit revenue targets, growth rates of each major business units, specifics about AI full-stack claims made during the keynote, and instead focused generally on the AI theme.  Xu did, however, however, answer a handful of questions that were quite interesting:  Huawei won't acquire DRAM, Flash companies; and that 5G is not so revolutionary – it is just an evolution following LTE. Additionally, Xu mentioned that in 2H18, Huawei will launch end to end 5G solutions  and by 3Q19, it will launch 5G capable phones.  Xu said Huawei will continue to work with Intel on x86 for the foreseeable future.
More Q&A specifics:
Trade Tariffs and ZTE.  (In a moment of levity, however, Eric Xu smiled when the words ZTE were mentioned – recall that a day earlier, ZTE was penalized by the US).  We will focus on our customers and will ultimately survive.
Cloud 1.5B by 2020, will you hit the target?  Will offer cloud services to telco service providers.  Huawei smartphones will leverage the Huawei cloud.  Enterprise customers will consume cloud services such as video, computing.  In future, trend will be enterprises will move to hybrid cloud and public cloud will take a major share.  Huawei cloud provides compute/storage/networking to enterprises and government.  200K x86 servers in Huawei cloud.  Revenue with external customers – won't share it with you – maybe .
AI chipset question:  We don't position chipset as a standalone business – won't sell to external customers.  Will be used to differentiate Huawei products.  Smartphone – we use multi-vendor strategy always; in other worlds; have multiple Qualcomm, NTK and others.  Remain committed to multi-vendor strategy.  Don't want vendor lock-in, however.  If we only have one vendor, what might happen to our smartphone business, Xu asked.
Enteprise business growth? Declined to comment on specifics, but said he encourages each to grow rapidly.
How do customers get to 86% AI usage (the question was asked by an audience member by incorrectly referring to the statistic that was made during the keynote – specifically, Huawei said AI experimentation will be 86%, not AI usage)?  Will give clearer answer at Huawei Connect 2018.  For now, can share that we will use AI on ourselves first, then help customers on various functions such as finance, human resources, networks, etc.
Supply chain – will you acqire your suppliers?  We do joint innovation with suppliers to meet Huawei's needs; push multi-source strategy, however.  Will not invest in DRAM, display, flash.
5G wasn't mentioned much in the presentation, why?  We don't have as high expectations as some others; 5G is just one of many products we offer and is just a natural evolution from 4G.  You don't have a fundamental difference between 4G and 5G – consumers just see faster speed and lower latency.  LTE already support autonomous driving.  Past couple years, governments have regarded 5G as too important.  June 2018, will only address eMBB – faster speeds.  2019 – will have fully 5G compliant system that does low latency.  4G is pretty robust; we don't see 5G as a national coverage network – it'll just focus on city centers.  However, once one carrier announces 5G, then all others must.  50% of Chinese have wireless connection capable of 4K but there are still no 4K stations.
2H18, end to end 5G solutions available.  3Q19, will launch 5G capable phones.
Share trends for Huawei at operators.  Revenue growth of telecom services is a challenging topic.  This revenue growth topic is why titan operators express concern about moving to 5G; instead, Huawei thinks moving to improved intelligence will assist operators.  Video will become more and more important as telcos become media companies too.
Will AI become a privacy concern?  Any technology has double-sided effects.  With AI, some believe it can be dangerous.  Xu believes in the wisdom of man.  Look back to history of mankind, and our humanity can do same for mankind.
Will Huawei find alternate suppliers for data center products?  (Xu also smiled about this question before answering).  Today, Intel is dominant player.  Our point of view, we look forward to more diversified landscape; but we work with Intel mainly now.