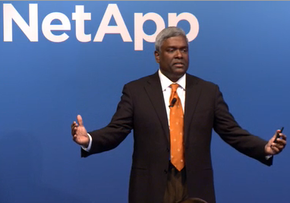 At NetApp's analyst meeting today, CEO George Kurian sees opportunity in selling HCI (introduced F2Q18, 4-5 months ago), AFA, share-taking in SAN, and public cloud software and services.  Every large customer NetApp talks to, according to Kurian, is using multiple cloud service providers and/or SaaS services and most are using the hybrid cloud, which means using workloads both on the customer premises and public cloud.  According the company's marketing and sales executives, the company's sales and marketing strategy is focused on leveraging the company's entrance to the cloud services software market.
Substantial future announcements that were made by NetApp:
In its nascent cloud-services software business, now being run by Anthony Lye, SVP Cloud Data services BU, 

the company set a target of reaching $400-600M of recurring revenue exiting its FY21 year – this effort to target cloud started over five years ago.    Additionally, this software is available at Microsoft Azure, Amazon Web Services and the company expects to announce other cloud service provider customers in the future.  Mr. Richard explains that the company's cloud software is "soon to be GA (general availability)."  Mr. Pasek guided that FY19 cloud data services is expected to reach $60M (see calculations below).

NetApp will add NVMe and storage-class memory products in the future.  The company expects to disaggregate storage from the controller to build capable high performance systems using NVMe.
Summary of presentations
Joel Reich, EVP Products and Operations discussed trends in data center flash:
•             NVMe over Fabrics
•             Storage-class memory as cache
•             Persistent memory in server
•             Quad level cell NAND
Reich made some interesting comments:
NetApp will add NVMe and storage-class memory in the future

Quad level cell NAND could spell the end of spinning disks

In its most recent year, it had a 75% win rate versus DELL EMC
Brad Anderson, SVP and GM, Cloud Infrastructure BU, said that NetApp's "Converged" (selling NetApp storage with non-NetApp servers) FlexPod business is now at a $2B run rate and >4,000+PB shipped.  The company recently initiated a Fujitsu partnership on March 26, 2018.  Anderson also said that NetApp's Hyperconverged product, which has only been selling for the past 4-5 months, hit its financial targets in the first full quarter of shipments.  He also said that the HCI product is based upon on recently-acquired SolidFire technology and conceded that the company is hiring people with virtualization capabilities to further augment the product line.  HCI customers that were discussed during this presentation were:  ConsultelCloud (Austrialian SaaS company) and Imperva (security company).
Anthony Lye, SVP Cloud Data services BU, joined a year ago and is responsible for the company's efforts to build software that runs on and with public cloud services.  He describes this software as one that operates above the storage layer, to allow customers to manage their data, whether in cloud, SaaS applications or on premises.  It offers backup, disaster recovery, and for securing data, and then binds those services and data in context of applications and business policy using the orchestration Engine.  OnCommand is product name.  The underlying technology NetApp uses is called ONTAP Data Management, which Mr Lye explained was separated from its engineered systems (hardware) and port it to public clouds five years ago.  We remember when NetApp announced its plans to separate ONTAP as a software for the cloud at its analyst meeting a few years ago when Kurian took over as CEO.
Lye explained that "later this year," NetApp will release cloud-based OnCommand performance management/monitoring tool to manage workloads in hybrid cloud environment.
Azure.  Microsoft Azure selected NetApp to become basis for its storage (in Azure console).  Lye says NetApp built Azure Microsoft files for them and we run it for them, paying on traditional subscription and consumption model.  Microsoft will include it in every enterprise service agreement and customer take-up has been beyond NetApp expectations.  Of multiple 100's of preview customers, >70% are considered non-NetApp strategic customers (eg they are new customers).  NetApp software software royalties show up as an Azure line item in Azure bill.
AWS.  Available from NetApp on AWS services.  Shows up as AWS bill as NetApp billable item.
Other Cloud Service Providers.  Expect to announce other relationships with other public clouds.
Lye said that NetApp's cloud software business is expected to reach $400-600M of recurring revenue by end of FY21.
Henri Richard, EVP Worldwide Field and Customer Operations said "Cloud is soon to be GA."  Richard explains this as its "Cloud Volume" product.  Richard explained that what is new this year is the hyperscaler relationships, starts a demand creation engine for the sales organization.
Jean English, SVP Chief Marketing Officer said the company will focus on "cloud first" to reach new "global" buyers (e.g. multinational organizations), will lead with HCI and Cloud to enterprises.
Ron Pasek, EVP and CFO explains that FY18 is almost over and the company is beating FY18 plans (low-single digits growth), driven by flash.  The CFO said that the new accounting rule, ASC 606 impact to guidance will be immaterial to the P&L , though will result in slightly higher product revenue recognition.
Additionally, Pasek said that a year ago, he said revenue growth will be "low-single digit growth" (FY18-20) and now he is saying "mid-single digit growth," driven by Flash, HCI, cloud data services.  Pasek said that in FY19 cloud data services will represents one point of growth.  (As an aside, we calculate FY19 cloud data services revenue, using the "one point of growth" metric at $60M, based on the latest quarter of total revenues, F3Q18 which was $1.52B, multiplied by 4, then multiplied by 1%).  So, cloud services revenue is expected to grow to FY19 of $60M and reach FY21 targets of $400-600M.  The company declined to state its FY18 cloud data services revenue when asked by the audience, so we take it that it is small.